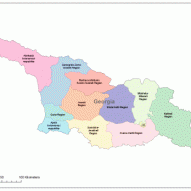 Georgia info
Georgia – is a small country closed in the magnificent Caucuses mountains, it's a country opened to the wide seashore and blue deep water of the Black Sea. It's a green and fertilized country thanks to its orchards, vineyards and green alpine meadows. It's a great country due to its people and their hospitality. When you come this area or the country capital Tbilisi, no doubts, you need some transport to get the necessary place. Tbilisi is a large city with some different parts like mountain city region or riverside. Of course, it has many government offices, enterprises, places of interest and wide network of suburbs. And any of this places, any address you need to get somehow. Up to me the best way to do it in Tbilisi is to use a rent car service. There are some reasons for it.
The business of car renting in the country capital is developed. It's a high competitive branch of a business, so the quality of services is very good. Everything you have to do is to find a good company with this type of services. I've used "Rentacar Georgia", it's a well- known company with a wide and good quality automotive park. After it you make your choice towards a car.  It depends on a car type, rent duration, your financial possibilities.
The wide network of mountain roads in the city and a whole in the country needs experienced local drivers. What's why it is reasonable to rent a car accompanied with a good driver who knows how to get safely the place you need. Of course, you can rent a car without a driver to make personal transfer from/to Tbilisi airport or even though the whole Georgia.
In spite of your goals:  to have a nice trip throughout  Georgia, or to get quickly the necessary place in Tbilisi, or to drive for a short distance out the capital and to stop for a rest or even to have a mountain safari by a car you can have any vehicle you want. That car will be specially proposed for your aim and you will not worry towards inconveniences during your trip.
As a rule, large companies with a car renting service have rather wide park and can offer auto of a different class: economical, sedan class cars, luxury, off-road, buses ,mini  van, etc.
To use a car rented officially you are safety because you have a reliable car in a perfect technical condition and you both are insured. Besides, a car has a license for each transportation. And if you also use driver's services, the driver is examined towards his health state and receives a special permission for driving.
Renting a car you can obtain additional services. For example, it can be GPS-system with Georgian cities' detailed maps. Or, if necessary, a  baby's car chair. Also, car rent companies can provide such services as gifts, parcels and flowers door-to-door delivery in Tbilisi, inland transportation all over the country with professional cultural and trekking tour guides' service for different tours and excursions, car service for wedding ceremonies and other events, shopping and so on.
The drivers of such car rent companies are extremely hospital, professional and safety. They dress a special uniform, speak different languages, are polite and treat the customers kindly and respectfully. They are experienced, qualified and reliable, have a good health and nice sense of humor.
So, renting a car in Tbilisi, Georgia you receive even more than a car. They are many advantages and as less problems as possible. You will have a wonderful journey or a business trip at a special place or over a whole country and good experience and emotions of Georgia and its people.